…but you may lower your premium costs with both.
Training, trust, drop insurance coverage...how do you really protect your five-figure investment in a x-ray DR flat panel detector?
ALL Original Equipment Manufacturers of DR flat panel detecors offer some flavor of drop coverage, be it as the risk bearer or assigned to a third party. The switch to wireless technology and better integration now demands the DR detector be mobile, more accessable. As prices drop for all standard medical FPD makes/models then the "bells and whistles" drive the value-add discussion. Ergonomic design, higher IP ratings and weight distribution, lighter panel weight, textured sides for grip, detachable handles……AND MAYBE drop insurance. I've been discussing DR Flat Panel Detector handling with technicians, OEM representatives, and third party insurance underwriters and there were no real common threads that wove through our discussions.
Size & Age matter – Is the FPD new, pre-installed, previously enjoyed? 17"x17" OEM drop coverage may not be available for some new makes and models. If the panel is unused yet dated in design, you may want to ask about your drop coverage options.
Coverage, existing commercial policy add-on vs. new coverage cost, deductable, terms, claims, settlement, occurance & replacement penalties??? YIKES, when I approached these discussion topics the professionals I spoke with had answers ranging from solid consistant processes to "tailored to your needs". Look, if you want to hire an analyst or broker be my guest.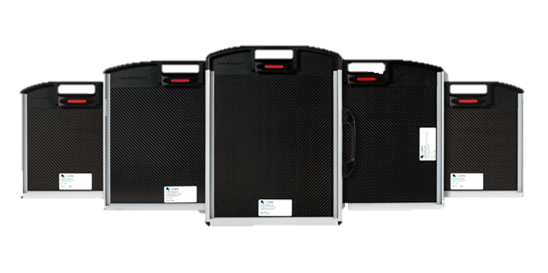 The real consistant authentic answer is…..invest in a solid encasement that's warranteed for the life of the technology. Wrap your capital investment in a patented solution being used across the globe to protect every make/model of DR flat panel manufactured, Lock-N-Secure®.
With referrals from flat panel manufacturers, testimonials from technicians and radiology directors, and medical imaging industry collaborations certifies our position as BEST IN INDUSTRY. BTW, our 1300 lb. / 590 kg. Weight Bearing Covers blanket your capital investment with carbon fiber security and one of our best sellers…..just sayin.
Check us out at www.rcimaging.com