Doesn't my flat panel detector already have a weight distribution capacity, and by the way what the heck is it?
Major OEM Distributors have written about their "NEW design" to accommodate our growing population. (GE, Canon, JPI, Rayence).
A lot of you have probably noticed FPD distributed load capacity rising, if you can't find the value on the FPD label ask your tech representative. A Uniform Distributed Load is a distributed load with a constant value at any point along the plain.
Some I've seen at 310 kg, or ~684 lb.…that is a LOT of human. The average used to be ~150 kg, or about 330 lb. When you decide on a five figure capital investment as a Flat Panel Detector you want the most rugged, patient friendly, low dose device you can wrap your budget around. With the added capacity comes increased FPD density, so the manufacturers reconfigure edges and ergonomics for patient comfort and human hands to, hopefully, grip well. The major players use this as a value-add to differentiate their product in the ever growing FPD marketplace, and rightfully so as their products act and react as advertised.
Lock-N-Secure® encasement solutions magnify weight distribution capacity, either with a grid or gridless. The degree of increased security is relevant to panel orientation, grid type, panel size, and FPD manufacturer physical footprint. Lock-N-Secure® has the ONLY PUBLISHED PROVEN benefit for weight distribution in DR panel protection. Ask your RT if she/he ever uses the panel to leverage the patient position for panel detector insertion or extraction.
Go ahead, I'll wait.
We tested our patented FPD protection solution for tube-side encasement to DR flat panel touch. Not catastrophic failure, just enough contact to cause possible article issues. Here are the independent laboratory results. This illustrates the Lock-N-Secure® with weight distribution, i.e. no grid. An ADDITIONAL 135 LBS. DISTRIBUTED LOAD!!

Here is the testing criteria: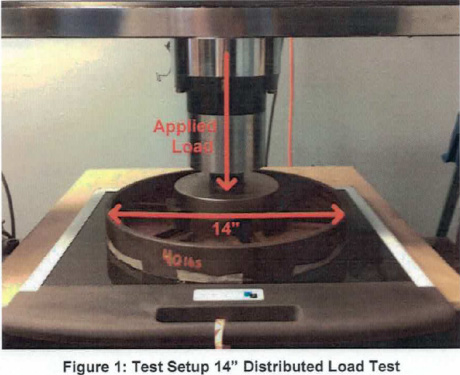 So, when you finally decide on the flat panel detector that best fits your criteria, is best for the patient, and will perform at peak level within your technology remember that an encasement is more than just a handle on your panel. Demand the best in industry. Demand Lock-N-Secure®.
#BestInIndustry #LockNSecure #FlatPanelProtection