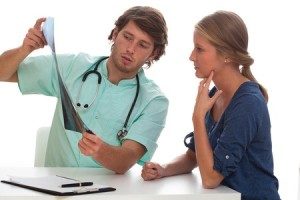 You learned these facts about x-rays in radiology school, but your patients probably never heard this fascinating information. What sparked your interest in pursuing a career in radiology may interest them as well! The next time you take a patient's x-ray you can educate them on a topic you love, and one they probably already wonder about.
1. How does an x-ray work?
X-rays are electromagnetic radiation wavelengths that can easily pass through tissues and muscles, but can't penetrate denser substances like bones because of the high amounts of calcium.
2. How were x-rays discovered?
Wilhem Roentgen discovered x-rays on accident in 1895. Through various experiments, he created an electric current in a vacuum and discovered an invisible light that appeared only against black paper. His discovery continues to benefit radiologists across the world.
3. Can x-rays be harmful?
X-rays contain such a miniscule amount of radiation that they are not harmful. Patients can't feel the rays passing through them, and the entire procedure takes seconds to complete. However, radiation can permanently harm unborn fetuses, which is why a pregnant woman should never have x-rays taken. In addition, most adults shouldn't receive more than about 300 x-rays a year, and since children are more sensitive to radiation than adults, they should have x-rays taken only when absolutely necessary.